(The MICE=Sara Grant) Seoul is one of the largest metropolitan areas in the world and offers a large variety of cultural and entertainment opportunities. Traffic in Seoul can be a challenge. One way to avoid the traffic is to use Seoul's superb subway system. (Subways are called Ji Ha Cheol in Korean) The subway system can take you anywhere you want to go from the center of the city to the suburbs. You can travel from Uijeongbu in the north to Suwon in the south. You can also go to Incheon on the west coast to Chuncheon in the center of the country. It is a fully integrated system and very easy to use. In this article, I will give you a few tips on how to use the system and then mention some of my favorite places to visit while in Seoul.
First and foremost is to get a map in English. This will help a lot. Maps are readily available at tourist information booths. Ticket windows in each station will also have maps but may not have them in English. Look for maps with large print. Some maps have very small writing and are difficult to use. A tour guide map is especially useful as it contains key points of interest and the stops and exits to get off at to see them.
The second step is to get a ticket. You can purchase single fare tickets at vending machines or at ticket window. Touch screens can help you calculate you fare, maps near the ticket window can also assist with this. Fares vary depending on the distance traveled.
(Korean residents over 65 or disabled can get free subway passes; these don't work on the buses). The vending machines have touch screens and way to select the preferred language. Single fare tickets are great if you are only going to a single destination; however, if you are going to tour Seoul using the subway, I recommend a Seoul transportation card.
You can get the Transportation cards at ticket windows in the subway, at vending machines in the subway, and even from kiosk on the street (booths that also sell candy, newspapers, and magazines). These cards are great as you can just load them up with cash and use them on all subways, buses, and some taxis. These cards will get you around the city. Once you have your card you can swipe it at the gates leading to the trains, as you get on and off buses, and even in cabs that take them. If you swipe them getting on and off buses these cards will automatically calculate any transfer discounts you may be entitled to. Once you get on the subway, you can ride it as long as you like until you exit though the ticket turnstile at you destination. (Remember to swipe you card going in and out of the subway).
The lines are color coded and also have either numbers or letters. The last stop on the line will indicate the direction the train is going. You can also look at the wall across from the platform to see what the next stop is. An arrow will point the direction the train is traveling on each track. Additionally, the subway stations (yuk is a station in Korean) have numbers. These numbers will also indicate the line. For example, Myeong-dong, the famous fashion district, is station number 424. The first digit is the line number. Therefore, Myoeong-dong is station number 24 on line four(the light blue line). Some stations have maps that show you the number of minutes it will take to travel to each station. Some stations have multiple lines to allow you to easily transfer between lines.
Some things to note on the subway system include: first, when I first started going to Korea in the 1970's there was only one line. Since then new lines are constantly being added and upgrade. What I find is the higher the number of the line, the more modern it is. The newer lines have sign telling you when the next train will arrive. Other signs show which door on the car will open (different stations have different platform configurations. Some have center platforms while others have separate platforms for each track.
If you ever find yourself going in the wrong direction, wait until you arrive at a station with and center platform, get off there, as it is easier to get on the train going in the proper direction. Trains will announce stations in both Korean and English. Some lines will have a chirping sound or abilingual announcement for station that allow you to transfer to a different line.
Many stations have vendors and shops in them. A key highlight of the Seoul subway is the availability of restrooms (called hwajeongshil in Korean). This is a great feature when I remember trying to find the appropriate facilities in New York or Paris to no avail; it is nice to have these modern clean facilities readily available. Once you exit the subway through the turnstiles you have to choose the correct exit. Most stations have numerous exits (some going into the teens). I recommend consulting the area maps located in the stations to determine what exit will put you closest to your destination. Many places will actually tell you what station and exit to take to reach them most expeditiously.
If you need to connect to a bus, there are normally bus stops near the subway station. Buses also take the transportation cards. Remember to swipe both on (near the driver) and off (in the center of the bus). Buses are numbered and each bus stop shows the route of each bus, however; normally these are just written in Korean. I recommend you have a friend tell you what bus to get on and write out a note in Korean so you get off at the proper location. Also note, buses are almost as susceptible to traffic as cars are.
If you are doing a subway tour of Seoul you have many options available to you from shopping to Museums, to entertainment districts. Seoul is too massive to discuss them all; however, I will tell you the ones I really enjoyed. First stop is Yeouinaru (station 527, or station number 27 on the number 5 or purple line). Take exit one and head to 63 city. This will take you to the 63 building. This complex has an I-max theater and an aquarium, shopping and restaurants, but it also is the tallest building in Seoul and has a great observation deck to see the southern part of the city. If you go here first, just to the top, take a look around, and then head back to the subway.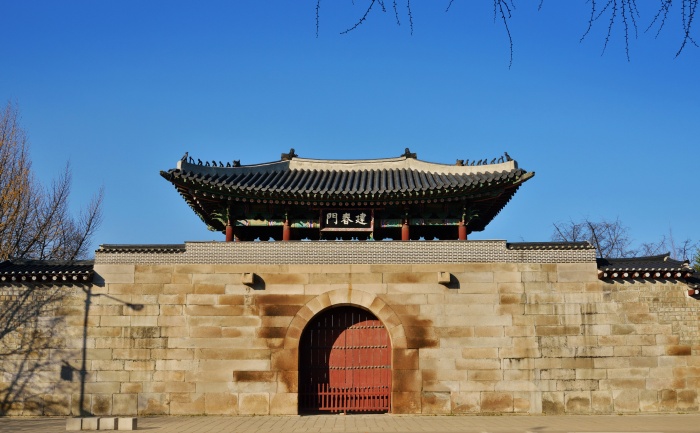 Next stop is Gyeongbokgung (station 327, or station number 27 on the number 3 or orange line). Take exit 5. This will put you at the main palace of the Joseon (Chosun) Dynasty. After purchasing tickets you can tour the extensive ground and museums. This is really an expansive complex and you could actually spend the day looking the palace over. Just one stop down the orange line is Anguk (station 328, exit 6). This station will put you at the top on Insadong, Korea's traditional cultural street (you can also get there from Jongno3 (where lines 1, 3, and 5 intersect)where exit 5 will put you at the other end of Insadong. Here you can get crafts, tea, or a traditional meal. The palace and Insadong are a great combination for a day looking at old time Korea.
If museums interest you the two I recommend are the National Museum of Korea and the War Memorial. They are both massive museums that you can spend a day in. They are also very close to each other. Take the number 4 line to Ichon (430) station. Take exit 2 to get to the National Museum. This museum has artifacts going back to the founding of the country and is filled with art, pottery, jewelry, and other items of cultural interest. After a few hours touring the National Museum, you can take the number 4 (light blue line) from Ichon up a few stops to Samgakji (428) (This station also connects to line 6.) Take exit 12 and walk for about five minutes to the War Memorial.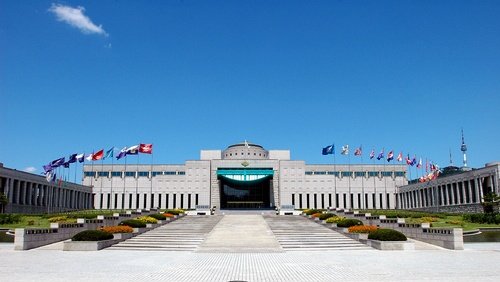 This contains a memorial to Korea's war dead, but also has a huge military museum that rivals the Imperial War Museum in London, or the Invales in Paris. The museum shows you the military history of Korea from the Stone Age until modern times. Smaller artifacts are contained within the museum. On the grounds are vehicles and aircraft. It is definitely worth a visit. Both museums require tickets that can be purchased for a nominal price on site.
After a day in museums you may need a beer. Just a few stops down the number 6 line is Itaewon (629). This is an international shopping and entertainment district. Here you can find shops and restaurants to suit any taste. Here you can find international chain restaurants as well as Korean ones. Shops and street vendors can meet your requirements for souvenirs.
Of course Seoul has no shortage of shopping opportunities. Namdaemun Market (Heohyeon station number 425 on the blue number four line) is a huge market with anything you need for your household. While there you can also see the South Great Gate (Namdaemun) that is Korea's national treasure number one. For higher fashion, take the orange line (line 3) down to Apgujeong-dong (station 336). This street is located south of the Han River in Gangnam (Gang means river, Nam means south in Korean with a literal translation of River South). It is often referred to as the Rodeo Drive of Korea. This district has restaurants, movie theaters, and high end shops. A block or two further south is Dosan Dae Ro, another street of high end businesses and restaurants and another nice place to visit.
Seoul has a never ending number of sights and experience and taking the subway is a great way to see them. I have just scratched the surface here; however, taking subway tours is a great way to learn about Korea. One word of warning, the subways can be very crowded especially at rush hour. So be prepared for crowds and as always in any metropolitan area, be safe.
Photo by: Howard Jungchan Lee