A 41-year-old man has been arrested for allegedly making a false bomb threat on a Scoot flight that was en route to the Thai city of Hat Yai on Thursday (Apr 5).
Police said preliminary investigations indicated that the suspect had told a cabin crew that he had a bomb in his hand-carry baggage.
Flight TR634 was escorted safely back to Changi Airport by Singapore's air force. Two fighter jets were deployed "within minutes" after the pilot raised a bomb threat alert, said Defence Minister Ng Eng Hen.
"The F-15SG pilots closely escorted the Scoot plane from the South China Sea to land safely back at Changi Airport," he added.
The passenger plane took off at 1.20pm and landed back at Changi Airport at about 3.25pm, said Scoot. It added that all 173 passengers and six crew members were safe.
In its first statement on the matter at about 4pm, the Singapore Police Force said the alleged bomb threat was made by a passenger. Police later said that the passenger and two of his travel companions were assisting authorities with their investigations.
"The police have checked the plane and the baggages of the passenger that made the bomb threat and his two travelling companions and found no threat," they said in an update.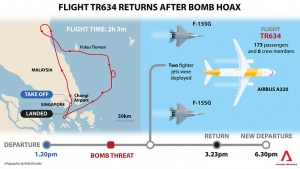 Scoot said the affected flight was retimed to depart at 6.30pm.
The man was arrested under United Nations anti-terrorism regulations, said the police. If found guilty, he may be fined up to S$500,000 or jailed for up to 10 years, or both.